Let's kick back and be ourselves.
Finally, a place on the website for us to say whatever we want (aka our blog). But this isn't just us rambling. Our goal is that it's always fresh and fun and never wastes your time.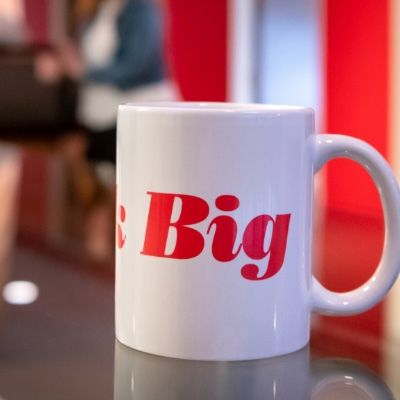 The Big personality behind the projects
Celebrating another year of making work fun.

While we're out of the office spending time with our families, we thought it'd be a good time to look back on our favorite memories with our Big family. We're proud of the work we've done this past year, but we're also proud of the culture we've created. (Yes, even the ridiculous inside jokes and the dramatic mini golf games.) Because for us, the encouraging atmosphere and sense of unity is what drives our creativity in the first place.
To start our year on a high, we brought back our Chaddy Awards. The Chaddy Awards are funny superlatives our leadership team gives to each employee that's specific to their office personality. Some of our favorites this year included Office Mom, Flannel Geek and Most Likely to Leave your Coffee Mug on a Coworker's Desk. (Looking at you, Chad.) All dressed up with our dates, we met at the Auburn Cord Duesenberg Museum where we walked the red carpet and shared a delicious meal together. At that time, we had no idea how much our office was about to change.
We've been truly blessed with incoming business, so we decided it was time to grow. Several new faces joined our office recently—and our team welcomed them with open arms. It can be awkward adding new hires to an established office, but for Big, it's been a blast! There's nothing we love more than surrounding ourselves with other brand-loving people. And it would be hard to feel inspired creatively if we were surrounded by coworkers that felt like strangers, so we all make an effort to really get to know each other.
There's a reason we filled our office with a variety of characters with a variety of skill sets and interests—because a bunch of unique perspectives sitting around a production table talking a mile a minute have a better chance of seeing the big picture than one mind alone. As a result, no one has ever accused us of being a quiet office. (Sorry to our office neighbors.) Our creative team spent another year in an open floor plan where we could (loudly) collaborate, share ideas and shout out song suggestions. And we got to know each other's strengths and weaknesses really well, which made us a stronger and more productive team.
Our productivity also increases when we have something to look forward to. So, every season we had a different food theme to get us through the week. In the winter, we had soup Wednesdays, in the spring we had a cereal bar every morning, in the summer we had ice cream Wednesdays and in the fall, we had popcorn Fridays. These little treats throughout the week kept our stomachs full and our creative juices flowing.
But we're not just friendly inside the office. Not many people would choose to spend their lunch breaks watching a funny show, celebrating their birthdays or going to a local hot dog stand with the people they have to sit by for eight hours a day—but this year, that became our normal routine.
And to keep the longtime tradition going, we took our annual Big Day Away trip in the fall. This year, we wound up in Cleveland to see the Rock & Roll Hall of Fame and the Cleveland Museum of Art. From playing trivia games on the bus to making custom rock and roll stickers at the hall of fame to posing like the paintings at the museum, everyone had a great time.
No office dynamic is perfect and upbeat all the time, but they don't have to be stuffy and rigid, either. We really do play hard and work hard—the playing is what gives us energy for the working. And because we love what we do, sometimes it doesn't even feel like work. 2022 was a great year of growing, bonding and creating together—and that's something to celebrate!