Let's kick back and be ourselves.
Finally, a place on the website for us to say whatever we want (aka our blog). But this isn't just us rambling. Our goal is that it's always fresh and fun and never wastes your time.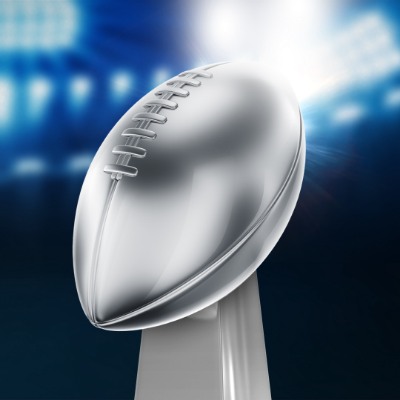 The Big "Big Game" Roundup
Like most of America, we were huddled around our TVs a few Sundays ago, watching the biggest brands duke it out for the title of "2022 TV Commercial Champion." Oh yeah, and between the commercials there was some sort of athletic game being played. Bengals vs. Rams, or something like that?
The next day, the Big team gathered 'round the water cooler (AKA our company-wide Slack channel) to rave about our favorites and rant about the ones that fell short—and why. Because for us, it's not enough to think about branding while at work. We like to ponder brand strategy from our couch, with a cold beverage nearby and a plate of nachos in our lap.
These TV commercials may have had seven- or eight-figure price tag. But the insights we took away from watching them can be applied to any brand and marketing budget.
Here's our take.
And the winner is…
In our unofficial office poll, Coinbase was the clear winner, followed closely by Squarespace. The Coinbase spot was ridiculously simple, and that's exactly what made it memorable. The bouncing QR code reminded some of a DVD player screensaver and others of a bygone Atari game (depending on one's age). But its success came from everything it DIDN'T do or say. Viewers were left scratching their heads—and their burning curiosity ultimately crashed the Coinbase website.
Simpler is better.
Squarespace's "Sally's Seashells" spot also took a straightforward approach. A familiar saying with a witty twist. A voiceover that explained what Squarespace can do. Polished visuals that were true to the brand. The celebrity cameo was the cherry on top—but the spot would've been equally memorable without it.
Simplicity spelled success for other brands as well. Pringle's "Stuck on You" and GM's "Sopranos" reboot didn't need a voiceover or dialog, which helped them both cut through the clutter—or the din of a noisy party. The concepts that relied heavily on visual effects (GM's Zeus and Hera), leaned too far into "campy" territory (WeatherTech), or left too many dots to connect (Dolly and Miley for T-Mobile), lost their audience along the way. The most successful brands proved that fancy, flashy or expensive doesn't always equal better.
Make a connection—with context.
As usual, celebrity cameos were in full effect. And this year, lots of brands dialed up on the nostalgia—especially '90s nostalgia—and dialed down on the comedy. But cameos and nostalgia alone didn't always cut it. The spots that succeeded made sure the nostalgia aligned with the product or service—like Verizon's "Cable Guy," Rocket Mortgage's Barbie Dreamhouse or GM's "Sopranos" reboot. To make the connection, context was king. And whether it was a familiar tongue-twister (Squarespace), a mystery to solve (Coinbase), or a relatable problem turned over-the-top joke (Pringle's), the best ideas made viewers smile, laugh, reminisce or get out their phones.
Be true to the brand.
Many of the spots that didn't make our list still lifted brand awareness. No matter how clever the concept, a successful commercial should explain what the product/service can do, show the product and/or packaging prominently, and communicate the brand promise. Carvana's "Oversharing Mom" and Toyota's "Joneses/Jonases" had a bit more fun than your typical car ads, but the witty plots didn't compete with the brands' key strengths—they elevated them. Even better, you could put both spots alongside everything else those brands have done, and they wouldn't feel out of place. They weren't trying to be something they aren't. And being yourself is just as true for brands as it is for people.
Missed a spot? Watch the Big Game winners (and all the rest) here.